I came back from Munich (Germany) where I attended Trolltech Developer Days and after a week I'd like to describe the trip and my impressions.
One of the main goals of going to that conference was to meet other admins of QtCentre.org. Unfortunately Johan and Axel couldn't come, but the rest of (more or less) active admins were there – I went to Munich together with Jacek and Daniel lives in Munich so it was easy for him to come.
The conference took place in Hilton Hotel in Munich and consisted of two days with each day divided into sessions (called "Breakouts"). In each session one could choose from three different lectures on various topics.
I noticed that the biggest effort was put on the model-view framework.
The Trolls themselves were really kind. They were wearing T-shirts with "I'm a Troll" writing on the front side and "Ask me" on the back (see pictures below). You could ask them any question and really expect it to be
answered (although my question remained unanswered :P).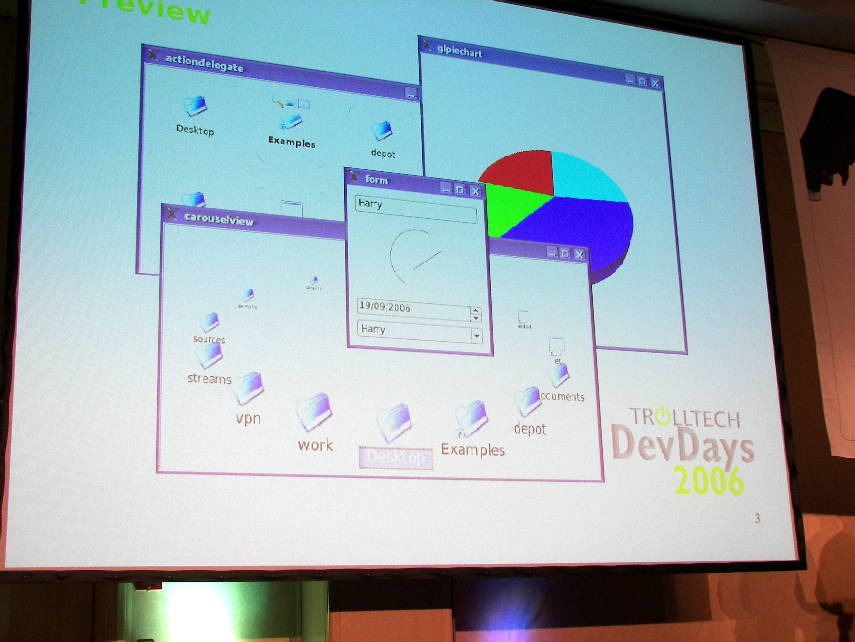 The quality of sessions was very high. All the Trolls were speaking fluent and plain English. The lectures included examples (like during the "Advanced Item-Views" session, see the picture on the left) and (at least to me) were easy to understand. Some of the lectures were so popular, that people had problems squeezing into the room, but that's because the three rooms used for Breakouts had different sizes and obviously Trolls made some errors estimating which course will be the most popular in each session.
As I mentioned before, one of the main goals of attending DevDays was to finally meet other administrators in person. I've met Daniel Kish ("theLSB" on QtCentre aka "hatulflezet" on QtForum) and together with Jacek (I've
known Jacek for 10 years now) we talked a lot and discussed the future of QtCentre.
We've also met Knuth Yrwin, the Qt Community Manager in Trolltech. He's the person responsible for contact with the community, so I expect more contacts between him and QtCentre team. Knut held a "BOF: Open Source" talk which aimed to give goals to Trolltech on how to more support Free Software.
Unfortunately, only a few people attended (one of them was Karin "kyrah"
Kosina). The discussion was live, loud and firm, but unfortunately didn't lead to some binding statements on the Trolltech side. Let's see how the situation develops – the Trolls were notified of Open Source
expectations (although I don't consider myself a person who might speak on behalf of "Open Source", but surely consider myself a person who might speak on behalf of Qt community) and we're in contact with Knut, so
hopefully that's not the end of this story.


Harald Fernengel (Trolltech Release Manager) demonstrating the penalty for not using QTestLib for developing Qt.
Benoit Schillings (Trolltech CTO) conducting the trivia question contest: "Remember, multiple inheritance is a beautiful thing!"
One of API additions planned for Qt 4.3 – QWidget::setWidowIcon().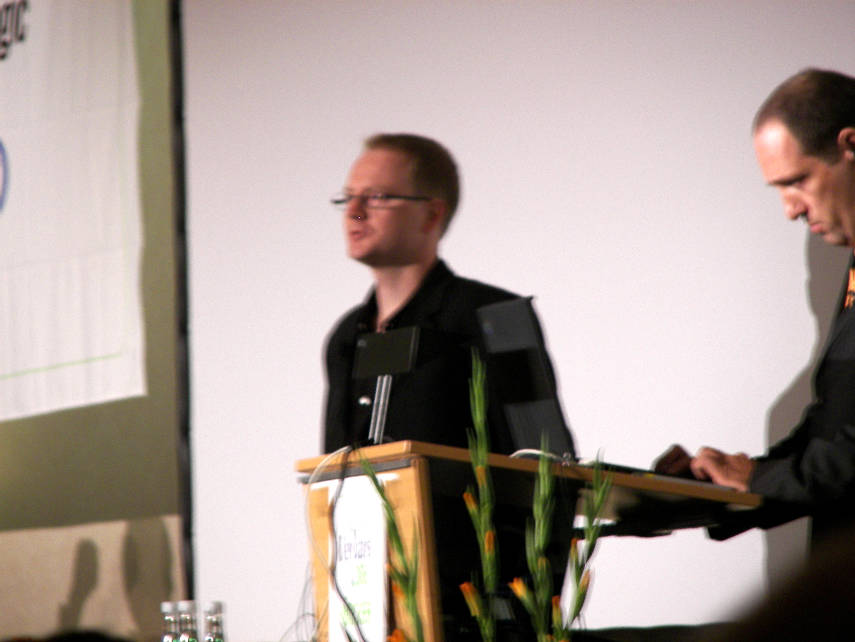 Eirik Chambe-Eng (Trolltech Co-CEO) welcomes people to the conference.